Aaron Sinnott is the latest rider to star in our Next Generation feature following his winner at Portrush last Saturday aboard the Gerard Kyne-trained Aonghus Song in the six-year-old-and-upwards maiden.

This was the 22-year-old's second winner of the season following his success aboard Ihavent A Clue at Borris in March.

The Wexford native is now in his fourth season riding in point-to-points and has so far had a successful time in the saddle having recorded two winners and a further 7 placed efforts from 36 rides to date this term.

Name: Aaron Sinnott
Age: 22
Area: Enniscorthy

How did you become involved in racing?
I am not from a racing background and none of my family have horses but I always enjoyed racing and being around horses.
When I was in school I went to Paul Nolan's for some work experience. I left school early and started working for Denis Murphy where I learned how to ride.
From there I got a job with Aidan Fitzgerald and the extra experience improved my riding even more. I went to work for David Harry Kelly and spent a year there. David gave me my first point-to-point ride aboard Do'ers Or Talkers who I finished fourth on at Laurenctown.

I then went back to Aidan's to work and I am based with him full-time now. I also school for Kieran Roche whenever he needs me.
I have to thank Ian McCarthy for getting me the ride on Saturday on my winner, Aonghus Song. Ian schooled the horse beforehand and told me plenty about him.

How have you found establishing yourself as a rider?

I had a stop start season for the first two years I was riding as I broke my leg twice.
Things are going well for me this year. Aidan has been very loyal to me and has given me loads of riding throughout the season.
It's definitely harder to get outside rides unless who are schooling for people or riding work for them as much as you can. You really need to be joined to one of the bigger rides in order to get your name out there as much as you can.
I am just trying to make as many contacts as I can and hopefully the opportunities will come.

Who has been your biggest influence?

Everywhere I have worked everyone has been very good me and helped me when they can.
Since I have been with Aidan, Richie has been very good to me in terms of helping me with my riding and giving me advice when he can as well as putting me in for some spare rides if they are available.
What has been your best day's riding?

My first winner at Ballingarry was a good day. It was actually a spare ride that day but it was great to finish my first season riding on a winner.
My winner at Borris this year was another favourite of mine. It was for Aidan aboard Ihavent A Clue in the adjacent maiden. I was delighted to be able to ride a winner for Aidan at his local track.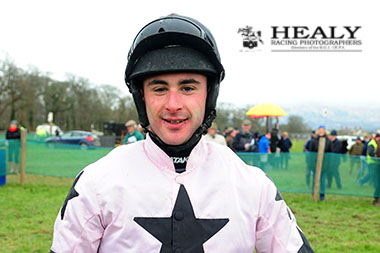 What is your favourite course to ride at?
I really enjoy riding at Borris. Aidan does a good bit of his work there during the season so I know the course well.

Do you have any of your own horses?

I don't have any horses of my own at the moment but I hope to buy a three-year-old with Aidan at the sales this summer.

Give us a horse to watch out for?

Queens Cave was very impressive in her four-year-old mares' maiden at Dromahane in November and has repeated that form on the track for her new connections having won a bumper and been placed in a Listed bumper.
Umbrigado is also another horses I really like from this season. He was runner-up at Ballyarthur in March is one to look forward to when he runs on the track.
Do you play any sports outside of racing?

I play hurling for my local club Rapparees in Enniscorthy so that keeps me fit during the summer months.
Have you any plans for the summer?

I hope to stay with Aidan for the summer as we will be kept busy with breakers and young horses during the next couple of months and all of that experience will continue to help my riding.

To read about some of the other featured riders in this series click on the link below.
www.p2p.ie/content.php

Aaron Sinnott is this weeks featured rider in our Next Gen Series. He rode Gerry Kynes Aonghus Song to victory on Saturday at Portrush P2P.
Find out more about Aaron HERE: https://t.co/w6Y4DRRLge#NextGen@aaronsinnott2 pic.twitter.com/tXgoUkxwBu

— p2p.ie (@irishp2p) May 29, 2018