Next Generation | Rider
Name: Stefan Tobin
Age: 25
From: Tallow, Waterford
It was a memorable day for 25-year-old Stefan Tobin who registered his first winner between the flags when taking the five-year-old geldings maiden aboard the Paul Cashman trained Prime Pretender.
The Waterford native is attached to the Paul Cashman yard.
Are you from a racing background?
Yes, a couple of my brothers are involved in racing and point-to-pointing. My oldest Paul used to ride in points and on the track he is now a point-to-point handler. One of youngest brothers Mikey also rides in point-to-points.
How did you get started in racing?
I grew up watching my older Paul riding in point-to-points and in bumpers on the track so would have always had an interest.
I gave up riding out for awhile but got back into after I finished school and decided to take out my licence and just kept it going from there.
I hunted for one season with the Conna Harriers a couple of years ago.
Where are you based at the moment?
I am with Paul Cashman six mornings a week and then in the evenings I would ride out for a couple of fellas like Roger McGrath and Eddie Kent.
I still help out my brother when I can, he does most of the riding out himself and I would just give a hand with riding work and schooling when he needs me.
You were delighted with your win on Sunday aboard Prime Pretender?
It was mighty. I thought I had a couple chances before and when it didn't plan out I knew it was going to be very hard to get.
It was my first spin on a really good horse for Paul Cashman, to see the way he won, he was a fairly easy spin and I was pretty confident going to the race thinking we had a very good chance. He proved that then by winning by 8 lengths.
The winner was subsequently sold to Evan Williams for £42,000 at the Goffs UK sale at Yorton Farm on Thursday.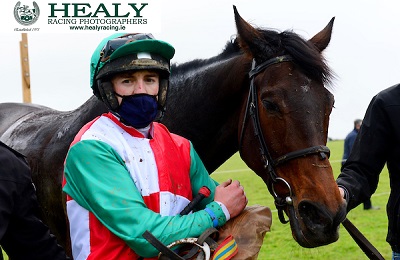 What are your ambitions now for the rest of the season?
Just to keep the head down, try and get on a few more for Cashman, pick up a few outside rides and keep looking for the next winner!
Is there any rider in particular that you think people should watch out for?
Mikey O'Sullivan is Paul Cashmans number one jockey, he rides in plenty of races both on the track and in point-to-points and seems to have a really good head for it and I'd like to see him do well.
Who would have been your biggest influence in racing?
My oldest brother Paul has probably been my biggest influence in racing. I grew up watching him ride in point-to-points and in bumpers. He is always giving me advice, we would discuss what I'm riding and would come up with a plan together. Sometimes I stick to it, sometimes it just doesn't go according to plan!
What do you think about the opportunities for novice rider's in point-to-pointing?
I feel that there are great opportunities for novice riders in point-to-points at the moment. There is nearly a novice rider race every weekend and they have a good variety of novices races, which is a great help to likes of me. There seems to be more horses than ever this season, so plenty of opportunities.
Do you do any sport outside of racing?
I play for Brideview United soccer club here in Tallow. Obviously that has now stopped on account of Covid but we train a night or two a week and the matches are generally on a Sunday morning so I play if I'm not point-to-pointing