The second weekend of the new season brought a second first-time winning rider with Carlow native Ross Foley enjoying his first success when Er Dancer won the older maiden at Saturday's Fermanagh fixture at Necarne.
This opening success coming on only his nineth ever ride between the flags, and now based full-time with the former champion point-to-point handler Donnchadh Doyle, Foley is a nephew of the former point-to-point handler Richard Foley.
Name: Ross Foley
Hometown: Garryhill, Co. Carlow
Age: 19
First Winner: Er Dancer, Necarne September 2020
How did you get involved in racing?
My uncle Richard used to train point-to-pointers and after I went racing with him one day I realised it was something that I wanted to get involved. I really got a taste for it.
I always knew that I would end up doing something with horses, I just didn't know if I could end up being a jockey, but I knew I really wanted to anyway.
My sisters had a few ponies and I just started off from that and then rode out for my uncle and as soon as I could ride at all I went for a job in Pat Fahy's.
What would be your earliest racing memory?
Going racing with my uncle at Ballingarry.
I think I was about 12, we ended up going to the wrong Ballingarry, so it was a big rush to the track and we only just got there in time but the horse Ms Jilly Maaye ended up winning by six lengths so it was a day that you wouldn't really forget.
How did you end up in Donnchadh Doyle's yard?
I was in Pat Fahy's for a year and he was very good to me and gave me a lot of rides in bumpers and even a ride at Leopardstown on St. Stephen's Day, so he really looked after but I decided to go down the point-to-point route because I was riding in the bumpers but it was very hard to get rides unless you were having winners. have been in Donnchadh's for nearly a year now.
I am in Donnchadh's full time and it is great that he is giving us the opportunities. He is really looking after us.
I have learnt everything there, you would be schooling three days a week there and really take in a lot from the boys. All the Doyle brothers are very good.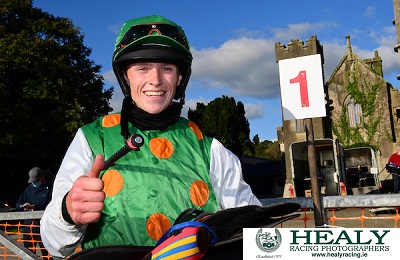 What is it like working there?
I enjoy the schooling and you are with lots of new people everyday and riding very nice horses. It is great to see how they progress from being a breaker, to running and then going to the sales after they win.
You would get lots of advice from James Walsh or Brian Lawless. Donnchadh would be very good to give you help too. There are lots of people there who know exactly what to do and you just have to ask them.
Saturday at Necarne was a big day for you?

It was a long time coming, but I was really grateful to Donnchadh for letting me ride the horse again, after what happened at Oldcastle the week before, he showed a lot of faith in me.
The plan to ride him from Oldcastle didn't change, he did really well to be fair to him.
Is there any horse that has caught your eye?
There are so many horses in at the minute, there are plenty of four-year-old's to run I couldn't really pick one out.
Outside of racing do you play any other sports?


I used to play a bit of hurling for a local club. Myself and a few friends would go off playing golf, we were doing that a good bit during the summer.
Do you have any aims for the season now?
Just to keep riding and maybe try to get another winner before the season is out.