As the start of the point-to-point season on September 19 gets ever closer, the complete provisional summary for the 2020 autumn campaign has been published.
A total of 37 fixtures will take place up to December 13 and the race programme was compiled following consultation with point-to-point handlers and the number of horses within each age group they expected to be running in the pre-Christmas period.
The Stewards of the INHSC have also indicated that they may amend the programme of races as the season progresses to ensure that all categories are adequately covered.
The €5,000 Winners Final which had been scheduled to take place at Oldcastle in the spring but fell foul of the Covid-19 cancellation, will take place at the second of the two Ballymacad fixtures that are set to take place at the Co. Meath venue this autumn.
The INHSC-backed race will be the highlight of the autumn programme on December 13, with a further €1,000 bonus up for grabs to the winning owner of the six-year-old and upwards maiden at Turtulla on November 15.
With Nenagh playing host to the only four-year-old auction maiden before the spring season was brought to a premature end, three auction races for four-year-old maidens have been included in the autumn schedule for the first time.
They will take place at Dromahane on October 25, Lingstown on November 22 and Oldcastle on December 13. In a further first, the Dromahane and Lingstown cards will see the four-year-old auction maidens held alongside an additional four-year-old maiden, giving as many opportunity for all levels of horses in the age group.
There has also been an increase in the number of four-year-old mares' maiden races for the autumn, with the season opening Ballingarry fixture, the first of 16 such races programmed before Christmas.
Handlers and owners can interact with the provisional summary on the P2P.ie website, where the interactive provisional summary function will allow them to view similar races and search by region.
Once on the fixture page, users can either select a race type from the dropdown at the top of the page, and if desired, the region of the country they would live to view suitable races in, or else when expanding the fixtures to view each of the six races, click the green 'PS' icon beside the relevant race and it will display all other similar race types.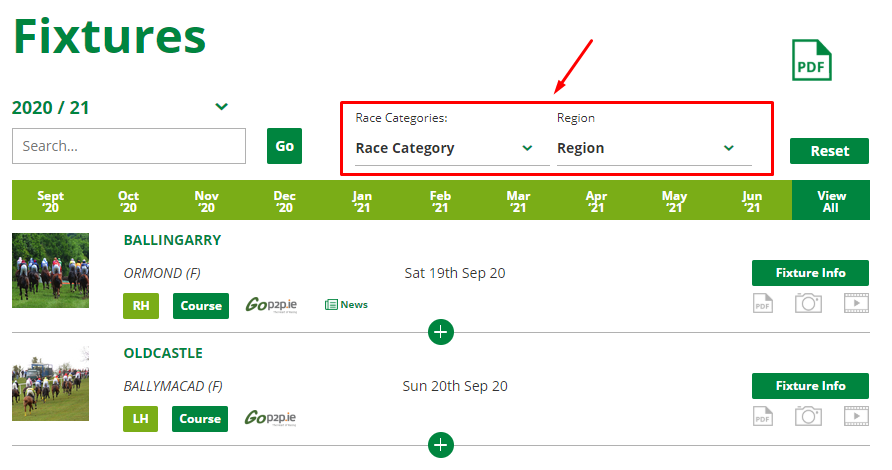 Commenting on the Autumn 2020 Provisional Summary of point-to-point races, Martin O'Donnell, Senior Steward of the INHSC said: "The Stewards of the INHSC are aware that Point to Point Handlers already have a significant amount of their point to point horses in training for the forthcoming Autumn Season.
"Therefore, we considered it important to release the full programme of races at the earliest possible opportunity, so Point to Point Owners and Handlers could plan their campaign accordingly. The INHSC is delighted to sponsor the €5000 race for older horses at Ballymacad (F) on the final day of the Season, this race contains the largest amount of prizemoney for any race in the entire Autumn programme and we hope it will be well supported by Owners and Handlers."