Spotlight On: John Costello

Area: Newmarket-On-Fergus

Role: Landowner of Cragmore point-to-point

Landowner John Costello, who has supplied his land for the Cragmore point-to-point for the last seven years, enjoyed a success at his homeplace on Saturday when his 18-year-old son Conor, a first-year business student at LIT, guided ex-British track performer Heydour to victory in the six-year-old and upwards geldings' maiden.

Heydour, who was bought privately by the Costello's, had been placed five times over hurdles and fences for Mick Channon.

The son of Presenting led from five out and stayed on gamely all the way to the line to get the better of The Bonny Boy by two lengths, with the pair being the only finishers from the six runners that set out.

The Bonny Boy is incidentally trained by Tom Costello's brother Tony and was ridden by Tony's son Thomas.

The Newmarket-On-Fergus native, was an amateur himself in his younger years and his brothers Tom and Dermot, were dual champion point-to-point riders, whilst his family was also responsible for producing top-class horses such as triple Gold Cup winner Best Mate, Florida Pearl, Back In Focus and Next Destination.

How many years has the point-to-point been on your land?

This was the seventh year the point-to-point was held on my land. The first five years it was held by the Limerick Hunt and the last two years it has been held by the Stonehall hunt.

Can you tell me about how you have to prepare the land for the point-to-point and what's involved?

I fence off the land where the point-to-point is going to be run in the middle of October for the point-to-point in February, and I keep the livestock off this land from the time I fence it off to keep the land fresh for racing.

After racing finishes there can be some work to do on the land depending on weather conditions. If the weather is good, it makes life a lot easier for me, if not, then I might have to harrow the ground to get it back level and then roll it.

I have been involved in point-to-pointing all my life, so I enjoy providing my land for the fixture, it's my way of giving back to the sport.

You were delighted with your win on Sunday?

We were all delighted with the win, it was a real family affair, my mother Josephine owns the horse and my son Conor rode him.

Heydour (pictured below) has good track form, however his form on the track has been on much drier ground, so there was that worry the ground wouldn't suit him. I have only had him in work for the last two and a half months, but in that time with each bit of work he has been progressing forward.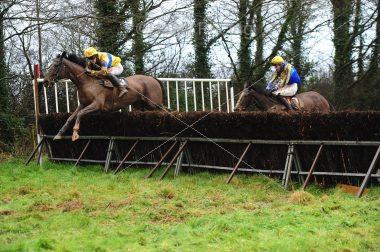 Your son Conor rode the winner for you on Saturday, does he ride out for you at home?

He's not with me full-time, he is in college at LIT in his first year of studying Business, so he rides out at home three or four mornings a week before he goes into college and at weekends.

Heydour was a track horse before you had him, and this was his first start in points, how did he end up with you?

My brother Tom originally had him as a younger horse, and he sold him to Tim Radford in England, where he then went into to training with Mick Channon. He had been placed a couple of times on the track and we heard that he was being sold, so we decided to buy him back last year and go pointing with him.

What's the plan with him now?

I will continue to run him in point-to-points and maybe aim him at a hunter's chase, but he's mainly there to give my son Conor a bit of experience riding.

Can you tell me a little bit about the horses you have?

I have a bunch of younger horses and half a dozen of those would be point-to-pointers.
I still ride out myself every day, but I also have two full-time staff and a couple of part-time staff to help me out.

You used to be an amateur jockey yourself?

I finished race-riding over 30 years ago now and during my time riding as an amateur I had over ten winners, I am not sure of the exact numbers, but all I know is I wasn't as successful as my brothers Tom and Dermot.
I had my first winner at Kildorrery for my father Tom.

What is the biggest change you have noticed in point-to-pointing?

The large sums of money being spent on younger horses in the four-year-old maidens is definitely one of the biggest changes I have noticed in the last couple of years, making the stakes a lot higher when running.

Do you do anything else outside of outside of racing?

I have about 200 beef cattle, so I farm along with doing the horses.