Next Generation | Rider

Name: Conor Blake

Age: 18

Area: Bagenalstown, Co.Carlow

Conor Blake is the latest rider to feature in our Next Generation feature following his first career success between-the-flags aboard the Kevin O'Donnell-trained Lesser in the six-year-old and upwards geldings' maiden at Ballycrystal on Sunday.

The 18-year-old only started riding three years ago and, in that time, since he began riding, he has been based at Aidan Fitzgerald's yard in Borris. The Carlow native is looking forward to the rest of the season where he hopes to gain more opportunities and could certainly be one to watch out for in the future.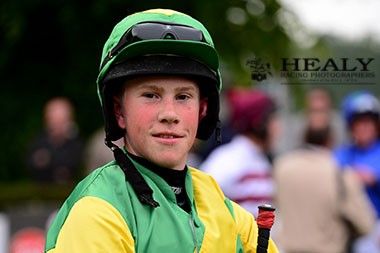 Are you from a racing background?

I am not from a racing background myself, my family would have no connection to anyone in racing, but I used to go point-to-pointing a little bit with my friends when I was younger and that's where the interest in racing grew from.

How did you get started in Racing?

Aidan Fitzgerald's yard is local to me here in Carlow and he was actually the one who taught me how to ride. I started off mucking out in his yard about three years ago and he was kind enough to give me a pony, so I was able to learn how to ride and it all just progressed from there.

Where are you based at the moment?

I have been based with Aidan Fitzgerald full-time for the last two-years; he has been very good to me.

Would you ride out for anyone else during the summer?

I try to ride out in as many places as I can to gain more experience, I went to Willie Mullins for a bit last summer, but we are busy enough at Aidan's (Fitzgerald) yard during the summer with the breakers, so it would never be for more than a week or two.

Can you tell me about one of your earliest racing memories?

My earliest racing memory would be going to the Borris House point-to-point with my school friends. I used to love watching the racing with them and that's when I first became interested in learning how to ride, as I wanted to ride in point-to-points myself.

You were delighted with your win on Sunday?

I was absolutely delighted with the win, to think I couldn't even ride three years ago and now I've ridden my first winner, it's a great achievement and it's a day I will remember for a long time.

Had you ridden Lesser before the point-to-point?

I had schooled him at Kevin O'Donnell's yard about a month before he ran, and I got on well with him. Kevin had told me that he was a lovely horse, so I was delighted when he asked me to ride him. Kevin's a local man and I know him from Aidan Fitzgerald's yard, so I was grateful to him for giving me the opportunity to ride the horse in the point-to-point.

What's the plan with Lesser now?

He will head to the sales now where hopefully he will generate a good bit of interest, as he is a nice horse and he won very easily at Ballycrystal on Sunday.

Have you ambitions for this season?

I would love to try and get as much outside rides as I can and hopefully get my name out there. I would also like to try and get another few rides off Aidan (Fitzgerald) if possible and of course getting another winner would be the icing on the cake.

What is your favourite track to ride at?

I would have to say my local track Borris House because I know it well from schooling there regularly and it's also a lovely track to ride around.

How about another rider you think might be up-and-coming?

Rochelle Murphy, I think is a rider to watch for, she rides out with me at Aidan Fitzgerald's yard and she's a very hard worker, who is also trying to get her name out there and gain as much experience as possible.

Who has been your greatest influence in racing?

Aidan Fitzgerald has been very good to me, as I mentioned before he started me off riding and a lot of what I have learnt is from him.

I would also have to say Richie Deegan, he has been great to me since the day I started in the yard, he is always giving me advice and helping me out where he can.

Do you play any sport outside of racing?

I try to play a bit of hurling during the summer but in the winter, I don't really have much time my focus is on the horses.

How do you relax away from racing?

I enjoy going to the pool for a swim and I would do a bit of running aswell.