When Wild Romance made her competitive debut in the four-year-old mares' maiden at Boulta last Sunday, she was the latest generation of her family to appear in the pointing fields here, a bloodline that has been with the Cavanagh family across three decades.

The daughter of Kalanisi is the fifth produce out of their Aboo Lala, herself a winning pointer, with her dam, Another Idea, the granddam of Sunday's runner-up also having won between the flags for breeder Richard Cavanagh.

She was the first mare that Mullingar-based Cavanagh had become involved in and won twice, firstly at Punchestown point-to-point in February 1996, before doubling up three months later at the families local fixture in Castletown-Geoghegan.

Jockey Simon Cavanagh, son of breeder Richard Cavanagh, explains how his father came upon the family.

"He got one or two point-to-pointers with Tommy Tynan and he always wanted to try breeding, so after she won then I think she got injured. He said that he would take her and see if he could breed from her and what would happen."

In all she would produce six foals, the second which, Aboo Lala, beat geldings on her debut to carry the breeders colours to success in a four-year-old maiden at Athenry on her debut for Ciaran Murphy and Dot Love.

"The fact that she is by Aboo Hom is because the sire was only down the road. Most of his point-to-point winners were Dad's with the three four-year-old's winning. Another Idea really got him into the breeding," explains Cavanagh (pictured above with his mother Enda and fellow rider Harley Dunne).

Indeed that started quite a remarkable run of success for the breeder with the relatively unknown stallion Aboo Hom, as over the course of the next two years, he would win a further two four-year-old maidens with homebreds that were all by the stallion, who himself had won just two races on the flat in an 18-race career with trainers Martin Pipe and Simon Dow.

Aboo Who (the 2008 champion point-to-point mare), a homebred out of Miss Florida, also won under Ciaran Murphy as she beat geldings' to land a four-year-old maiden at Oldcastle in March 2006, having finished third to Tranquil Sea at Bennetsbridge a month earlier, whilst Another Aboo, the first foal that Gincell Lady produced for Cavanagh and Tynan, won the same Oldcastle four-year-old maiden on his debut for John Joe Walsh.
Oi oi what a day 😀�@GoPointing� �@LarkhillRacing� #drumlynn pic.twitter.com/GMpID5VRwh

— Luke harvey (@LeglockLuke) December 2, 2018

ITV and AtTheRaces Broadcaster Luke Harvey after winning at Larkhill with the Cavanagh's homebred Drumlynn, a half-sister of champion mare Aboo Who.


Whilst Aboo Lala's racing career was a short one, it was full of promise, having finished in the placings on each of her subsequent five outings, which also saw her step into open company before retiring to the paddocks.

It is there that she has produced a number of notable performers for the family with each being introduced into point-to-points.

Maliboo was the first of the family to enjoy success in the Cavanagh colours when she won her maiden at The Pigeons before Boss Man Fred arrived on the scene.

The son of Dubai Destination won on his introduction at Ballyragget last March, when guided to success by Harley Dunne.

"He was only broken late, so he was never going to make the four-year-old's. I thought he was a bit weak as a three-year-old, but Ray Cody broke him and then all of a sudden he just came through, but by that stage it was too late to run him as a four-year-old, so we left him until he was five and that paid off," added Cavanagh, whose brother Jack had his first ride in a point-to-point back in February and is now working for Noel Meade.

It was timely that 13 days before his half-sister Wild Romance made her competitive debut at Boulta, Boss Man Fred made his rules debut for Dan Skelton, having been bought by Bloodstock agent Dan Skelton at the Goffs UK Aintree Sale for £70,000.

The five-year-old digging deep at Kempton to get the better of fellow Irish Pointer and recent Chepstow winner Ofalltheginjoints in a 2m5f Novice Hurdle.
Cracker!

Boss Man Fred denies previous winner Ofalltheginjoints on Rules debut in a stirring finish at @kemptonparkrace @DSkeltonRacing

Results â%u017E¡ https://t.co/glajGV55GR pic.twitter.com/w6QKd3s4PS

— Racing TV (@RacingTV) November 11, 2019

"Dad was delighted to see him win as he has had the family a long time and it is great for the page to keep it live too."

Wild Romance too will be offered for sale at the upcoming Tatteraslls Ireland Cheltenham December sale after chasing home Russellway in a 17-runner four-year-old mares' maiden on her debut, and Cavanagh, who was aboard the Denis Murphy-trained bay was left rueing the passage he had through the big field.

"We had absolutely no luck. It was such a big field and I got absolutely murdered any time that I tried to make a move. I was nearly brought down twice and at the fourth-last, I got my nose cut off me and we were shuffled back down the field again just was I was starting to make ground.

"I had to get after her then going to the third-last just to try and have any sort of a chance. It was a big effort to come from that far back.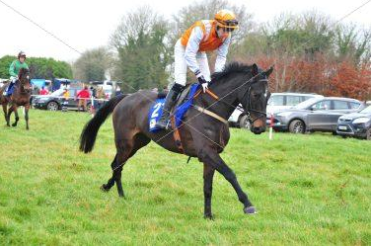 "Believe it or not, she is still actually very green. For one of Denis', she was nearly to green to run.
She only went down in the middle of last year and was only there for half of last season as she got held up with coughs and colds so she missed all of the big work, like getting away for schooling and things like that.

"Her first time to school on grass was only when the four-year-old's came back in ahead of this season and Denis has done a brilliant job with her."

Another Idea left one final horse of note with the family, with the last of her foals Jack Aboo, who became a real star for the family.

Incidentally also by Aboo Hom, and so a full-brother of their Athenry four-year-old winner, Aboo Lala, he earned his place in the families hearts when providing then 22-year-old Simon with the first of his successes under rules, when they won a Hunter Chase at Clonmel.

"He was down with John Joe Walsh as a four-year-old and John Joe thought the world of him, but he got a virus after running in a schooling bumper and never really came right for him after that.

"His runs in his three bumpers were nearly too bad to be true so Dad took him home. We had him there and I said to Dad should I we should try him in a point-to-point for a bit of fun and see how he would get on and he ended up going into Ciaran's and finishing second on his first start. It went from there with him.

"He is retired now, we retired him three years ago but he is still at home and we have him for sentimental value."

There is still more to come from the family, as Aboo Lala, one of their eight current broodmares, has a yearling filly by Dylan Thomas, and plans to consider a return to Kalanisi following the promise of Wild Romance.