Name: Ben Harvey
Age: 18
From: Naul

Are you from a racing background?
My Grandfather trained racehorses and my father David Harvey rode as an amateur himself when he was younger, so my interest stemmed from there, as I was always quite involved from a young age. I also was involved in pony club and went on then to ride in a couple of pony races.

What is your earliest racing memory?
My family would have always been involved in racing, so I would remember going to Navan when I was very young to watch my grandfather's horse run and I've been going racing ever since.

How did you get started riding out?
We would have always had horses around at home, and I suppose once I was old enough I would have started riding at home.

Where are you based at the moment?
I'm in college at the moment so I only ride out two days a week, one day in Pat Doyle's and the other day in Tony Martin's

During the summer were you riding out at any different yards?
I made the most of my time before starting college and got to ride out for Tony Martin, John McConnell and Gearoid O'Loughlin and went to their yards a couple of different days a week.

Who has been your biggest influence in racing?
Pat Doyle has been a great help to me when I ride out with him, he's always giving me helpful advice especially when we go schooling. Its great to be able to get advice off someone like Pat, so riding a winner for him at the end of last season was great to do.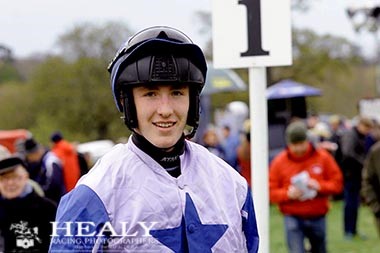 Has there been any highlights that stand out to you since you began riding in point to points?
I'd say winning that race in Ballingarry for Pat would probably be the main one as he has been very good to me.

How about another rider you think might be up-and-coming?
I'd have to say Evan Dwan. He has been a great influence and getting me started and was a great help getting me into Tony Martin's which has been a great place to ride out in.

What is the most unusual thing you have seen at a point to point meet?
I was at Tyrella point-to-point one day, and as the runners were going down to the start for one of the races, one of the horses was being brought to the take a look at the first fence, and wouldn't stop, so ended up jumping over it!

Do you have any other interests outside of racing?
No, its all about racing although I do bit of hunting when I get a chance with the Fingal Harriers.

If you could play any other sport professionally which would it be and why?
Probably Eventing. I did a good bit of it when I was younger and really enjoyed it. I don't have the time to do it as much anymore, but I enjoyed it when I could.

Is there anything you would change about the industry?
It would be great if they could provide more opportunities for the smaller handlers, particularly in four-year-old maidens as that would give them more of a chance.

What's the best piece of advice you've ever been given?
To put your head down and work hard

What are your ambitions now for the future?
I am in college at the moment, studying Equine Business at Maynooth University, so the plan would probably be to stay riding as an amateur and finish college.

Have you a horse to follow?
I would have to say Space Cadet after Sunday. He is looking promising for this season and I'm looking forward to see how he runs over the next while.

Is there any point to pointer in Pats that's looking promising?
Pat Doyle has a four-year-old Fame And Glory gelding that I think looks promising and should give a good account of himself when he comes out.


18yo Ben Harvey got his season off to a good start when guiding Space Cadet to victory in the Open at Castletown-Geoghegan on Sunday for @GearoidOLoughli & @Chrisjo69714881

He is the first rider to star in season 3 of our NextGen feature.

READ MORE - https://t.co/zfPK1NCrTa pic.twitter.com/3yP6nGD7FP

— p2p.ie (@irishp2p) October 8, 2019