County Clare-native Jack O'Grady rode the first winner of his career on just his third attempt when steering Poetic Presence to a facile victory in the novice riders open at Ballingarry last Sunday.

Having started out with a few local trainers including Paurick O'Connor, the 19-year-old added to his experience by spending a summer in France last year, before starting with his current employer Sam Curling in January.

Having enjoyed the best possible start to his career, Jack O'Grady will certainly be a name to watch out for in the future.

Next Generation | Rider
Name: Jack O'Grady
Age: 19
From: Quin, Co Clare.

Are you from a racing background?

A couple of my uncles always kept a few horses and they got me a pony which got me started. I always wanted to get involved in racing so I started riding out when I was around 14.

How did you get started riding out?

I started around Quin, riding out for the likes of Malachy Hassett and Jason Titley, when I was still in school. After I finished my Leaving Cert I went up to Paurick O'Connor for a season.

How did it all progress from there?

I went over to France this time last year and I was based in Maisons Laffitte with Gina Rarick. I got to do a bit of schooling for John Paul Gallorini as well. I really enjoyed it over there and it was a great experience.

Where are you based now?

I came back from France in late December and Paurick and Derek put me in touch with Sam Curling and I started in here in January, you couldn't ask for anybody better to work for.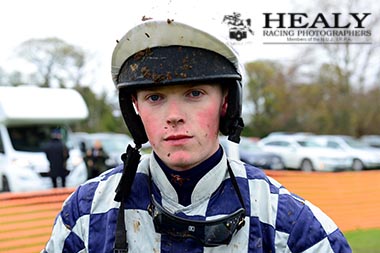 You had have had you first ride at Stradbally a few weeks ago?

I got my licence in the middle of March and then I had my first ride around Stradbally in April, which finished third. I rode another mare in Dawstown a couple of weeks later for Sam and then my third ride was Poetic Presence on Sunday.

It must have been great to get off the mark at just the third time of asking?

It is great to get a winner that early in my career, I was dead happy. I ride her out a good bit at home and she was after winning below at Tralee the previous week. I was delighted and very grateful Sam put me up as well.

Sam told me on Saturday that she was going to run, so I didn't get too much time to think about it. We thought if she could make all, they would struggle to catch her on the day. She is a very clever mare to jump and thankfully it all worked out.

She is actually a companion for Longhouse Music at home as well, they live out together and they get on very well.
Were any of your family up to see you?

My mother and a couple of my friends were there. I was delighted that my uncle who got me into horses was there to see me ride my first winner as well. A couple of the people I started out with at home like John and Malachy Hassett were there on the day too.

What are your ambitions now for the future?

I am just hoping to keep getting more chances and hopefully progress from there. I would just like to focus on getting a few more rides next season and start to get established.

Any plans for the summer?

We are just getting going with breakers now in Sam's and with the sales coming up we will be plenty busy for the summer.

Who has been your biggest influence in racing or who would you look up to?

I would have done a nice bit of schooling with Derek and Eoin Mahon when I was in Paurick's and they would have given me a lot of advice. Pa King is in Sam's a couple of mornings a week and he would be very good to me. It's great to see how different lads ride different horses and get the chance to learn all the time.

How about another rider you think might be up-and-coming?

Conor Blake and Tommy Mahon both look like they could make nice riders. Susie Doyle is local as well and I think we will see a lot of her next season. Eoin Mahon is really starting to hit a bit of form as well and there should be a lot more to come from him.

Do you do any sport outside of racing?

I used to play a bit of hurling at home with the local club in Quin, but I haven't got into it again since I came back from France.

What's the best piece of advice you've ever been given?

Keep your head down, mouth closed and work hard.

Next Generation | Rider - Jack O'Grady

Jack O'Grady got off the mark at just the third time of asking at Ballingarry last Sunday and talks about how he got involved here %u27A1%uFE0F https://t.co/vRMg1a5qAu pic.twitter.com/cynUueOWxz

— p2p.ie (@irishp2p) June 5, 2019