Shane Fenelon enjoyed a day to remember when riding his first winner at Stradbally last Saturday, remarkably the Wicklow native only had to wait 30 minutes to ride his second winner as Rudy Catrail brought up a quick double for the novice rider.
The 21-year-old is based with Shark Hanlon and has had 20 rides between-the-flags to date. Fenelon also rides out for Sean Doyle and Dusty Sheehy, both of whom have supplied him with rides this season. Clearly held in high regard by a number of well-established handlers, Shane Fenelon could certainly be a name to watch out for in the future.
Next Generation | Rider
Name: Shane Fenelon
Age: 21
From: Newtownmountkennedy, Wicklow.

Are you from a racing background?

My father is a farmer and we would always of had horses around the place. A few of the lads around had ponies and I started doing a bit of pony club, along with hunting and show jumping.

How did you get started riding out?

My grandad was always following racing and he used to bring me to Tinahely, which would be our local track and that developed my interest in racing. One of my friends Brian Lawless would have had a few point-to-pointers at home and I started riding out for the Lawless's.

How did it all progress from there?

In fourth year we went up to John McConnell's for the summer which was great experience. I then rode out for Peter Croke for two years after that and I was full time with him after my Leaving Cert.

I went on to spend six months with Coolmore during foaling. When that finished up one of my neighbours put me in touch with Shark Hanlon and I have been here just over a year now.

You had have had you first couple of rides then last season?

I had two rides last season point-to-pointing and a couple of rides in bumpers over the summer. Shark has been good to me this season and I have started to get going, he also sent me down to Sean Doyle's a day a week and I had my first ride for him recently as well.

I try and get around and school for as many lads as possible and I do a good bit for Dusty Sheehy in the evenings.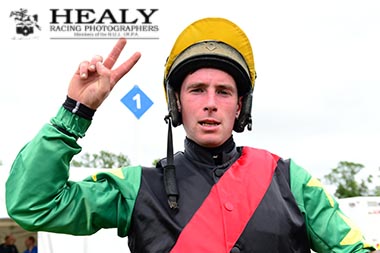 It's fair to say you were a bit unlucky not to ride your first winner back in the Autumn on Myforeverfriend?

I rode him at Damma House and he was probably my first chance of a winner, as he was only beaten a couple of lengths at Tinahely on his previous run.

I made the running on him at down there and had them under pressure two-out, but unfortunately he tipped up. It was just one of those things unfortunately.

Thankfully you had a great day last Sunday at Stradbally, riding not only your first but also your second winner on the same day?

It was great, at the start of the season my aim was to get as many rides and as much experience as I could and if I had a winner it would be a bonus. But going into last weekend I thought I had two good chances and thankfully it worked out.

Dusty Sheehy was fairly confident with Rudy Catrail in the winners' race, he had ran a good race the last day up in Broughshane and we thought he would come on from the run.

The race cut up a little but as well which helped him. He can be free enough, but you just have to go with him rather than fight him and thankfully it played out well.

We liked the five-year-old, Urban Legend at home in Sharks and we were hoping he would go close as well, thankfully it all went to plan. He is entered over in the sales this week so hopefully he will sell well.

Were any of your family up to watch?

Both my dad and my granddad were up so they were both delighted.

What are your ambitions now for the future?

I would like to stay riding in point-to-points and try and get the ball rolling. If you can get a bit of a run it seems to help you get going. I am going to try and get a few more bumper rides over the summer and hopefully I will be able to kick on next season.

Any plans for the summer?

Shark had a good year and he will have plenty in for next year hopefully, so we will be busy. I give Dusty Sheehy a hand then a few evenings as well.

Who has been your biggest influence in racing or who would you look up to?

You would have to look up to Jamie, Barry and Derek riding in point-to-points, they are riding winners every weekend. On the track Davy and Ruby just never seem to be in the wrong place.

Brian Hayes and Rachel Blackmore have also been very good to me giving advice and helping me out.

How about another rider you think might be up-and-coming?

I would be good friends with Brian Lawless and Niall Prendergast and they are definitely two to watch out for.

Do you do any sport outside of racing?

I will try and play a bit of football and hurling over the summer, but during the winter it's all racing.

What's the best piece of advice you've ever been given?

Hard work pays off.

Next Generation | Rider - Shane Fenelon

Shane Fenelon rode a double at Stradbally last Saturday and talks about how it all came about here %u27A1%uFE0F https://t.co/DEn7BGVGi9 pic.twitter.com/Rfmpp7OV3d

— p2p.ie (@irishp2p) May 29, 2019