Diamuid Moloney was seen to good effect when steering home his first winner on just his fourth attempt at Loughrea last Sunday. The County Clare native executed a well-judged front running ride aboard the Niall Kelleher – trained Rockin Roxtown in the adjacent maiden.

The 20-year-old is based locally with the shrewd Joe Ryan and with plenty of opportunities to school for other handlers Moloney may certainly be a name we could be hearing more of in the future.

Next Generation | Rider

Name: Diarmuid Moloney

Age: 20

From: Ardnacrusha, Clare

Are you from a racing background?

I'm not really from a racing background, but an uncle of mine keeps a few half – breds which got me interested in horses. I started out doing riding lessons and that progressed to hunting, which really got me going.

How did you get started riding out?

After my Junior Cert I started riding breeze up horses for Joe Quinn in Sixmilebridge, when they were finished up I went over to Joe Ryan in Broadford and I have been there ever since. I was riding out for Joe at weekends and school holidays until I finished my Leaving Cert.

How did it all progress from there?

After my Leaving Cert I went to do my Greencert in Kildalton for two years. When Joe wasn't busy I was able to ride out for Joesph O'Brien when I was off from college.

Where are you based now?

I came back home this year and I have been based with Joe full time since then, we would have nine or ten in for the winter. Robbie Clancy and Joe's son Josh ride out in there as well. I would also ride work and school for the likes of Niall Kelleher, Brian McMahon and Eamonn O'Connell.

You had have had you first ride back in the Autumn at Lisronagh?

Cormac Flannery gave me my first ride around Lisronagh on Spivey Cove, I have had three rides since on Rockin Roxtown for Niall Kelleher.

You have struck up a good association with him this spring?

He has been very good to me, Joe was chatting to Eddie Power coming back from the sales earlier on in the year and he said he had a horse that would get a young lad going.

We went down to have a look at him and liked him, so the lads bought him about two months ago. He ran a cracker the first day at Quakerstown and he was better again at Loughrea on Sunday.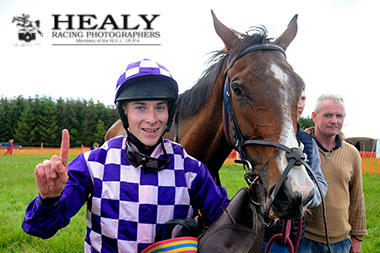 It must have been great to get off the mark at just the fourth time of asking?

We were hopeful going up, we thought if they left me alone in front he would be thereabouts. He settles in front and is very good to jump, thankfully everything went to plan.

My uncle and a couple of my cousins were up and Joe even came even though he had a runner in Ballindenisk, we were all delighted.

What are your ambitions now for the future?

I would like to establish myself as a point-to-point rider. Hopefully just start to get going and get more rides.

Any plans for the summer?

Joe is quite at the moment so I am going to head to Norman Lee's for the summer, he has a few summer horses in. I will be back with Joe then again for the winter, I will head to the sales as well over the summer and I would hope to buy a store myself.

Who has been your biggest influence in racing or who would you look up to?

I would do a lot of schooling with James Hannon, Eoin Mahon and Derek. I get to learn a lot from them and they are always helping me.

Do you do any sport outside of racing?

It's just all racing for me at the moment.

What's the best piece of advice you've ever been given?

Don't let anyone up your inside!

Next Generation | Rider - Diarmuid Moloney

20-year-old Diamuid Moloney recorded the first success of his career last Sunday and discusses his background here %u27A1%uFE0F https://t.co/lhtx7u1wO2 pic.twitter.com/syTT8iiwQW

— p2p.ie (@irishp2p) May 22, 2019