Derry-native, Oran McGill got off the mark at just the fourth time of asking when steering Milan Flyer to success in the Open at Moira last Saturday.

The 19-year-old is rides out for his father Gary McGill and Noel Kelly, so will be hoping to build on this initial career success in the near future.


Next Generation | Rider

Name: Oran McGill
Age: 19
From: Maghera, Derry


Are you from a racing background?

Dad would always of had horses around at home, so I have been involved since I was young.

I had a pony starting out and then I began riding out some of the quieter race horses as soon as I was old enough. It all went from there really.


Are you still in school now?

I left school this year after my A-Levels and decided to try and give riding a go full-time.


Where are you based now?

I ride out for Noel Kelly, he is only 15 minutes up the road and for my father as well. We would have about 10 in at the minute.


When did you get your licence out?

I got my licence earlier in the year and I have had four rides on Milan Flyer.

I will hopefully get another couple of rides of my father and a few other people I school for before the season is out.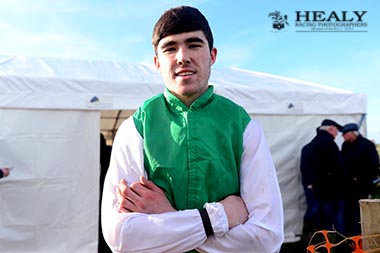 It must have been fantastic to get off the mark and ride your first winner at Moira on Saturday?

It was great to get my first winner alright, we were hopeful going down. Milan Flyer needs soft ground as he just stays all day. He ran well at Portrush the weekend before but the ground was probably a bit too quick for him.

The ground at Moira was a bit softer and he won around there last year, so he likes the track.

It was nice to ride it for my father, I own him myself as well.


Have you longer term plans for the future?

I would like to stay riding in point-to-points and see how things kick off.


Who has been your biggest influence in racing or who would you look up to?

I would know most of the northern lads, especially the lads that ride for my father. Jamie Codd and Noel McParlan are two riders I would always watch.


How about any other young rider you think might be up and coming.

Paddy McGuigan rode Milan Flyer for us last year when he won a couple for us and I know him well.


Do you do any sport outside of racing?

I play quite a bit of Gaelic football for our local club.


What's the best piece of advice you've ever been given?

Keep your head down and work hard.
Next Generation | Rider - Oran McGill

19-year-old Oran McGill steered home his first winner on just his fourth ride between-the-flags at Moira last Saturday and the Northern rider explains how he got started here %u27A1%uFE0F https://t.co/9vMlIvXZLg pic.twitter.com/erpwQMHERA

— p2p.ie (@irishp2p) April 10, 2019