Andrew Walsh is our latest rider to feature in our next generation section.
From Co. Wexford, 18-year-old Andrew began riding in point-to-points last season and enjoyed his first winner at Largy last April aboard the Ashleigh Murphy-trained Better Be Quick. Andrew, who is currently studying to do his Leaving Certificate in Bridgetown College, teamed up with the now 12-year-old to register a second success at Inchydoney in May.
Andrew was in the winner's enclosure on Sunday at Durrow when he steered his own mare, Rainbows At Dawn to victory in the seven-year-old-and-upwards mares' maiden.
Name: Andrew Walsh
Age: 18
Area: Rathangan

How did you become involved in racing?
My father Michael has always kept broodmares and hunters at home so I grew up with horses from a young age.
When I was about eight or nine my cousin started up a riding school and I started to get riding lessons there every weekend and loved it from the start.
When I was 11 I then started to help John Walsh at the weekends and during my school holidays. From there I then started with Ashleigh and Michael Murphy when I was 15 and since then I have spent any of my holidays as well as my weekends there.
I have learned a lot from the Murphy's as they have young stock, sales horses and point-to-pointers so it has given me a good base with all sides of it.

What's your favourite course?

It has to be my local track at Lingstown. Hopefully I will ride a winner there some day.

What was the best day of your racing life?

Riding my first winner at Largy was a memorable day especially as it was for Ashleigh and Michael who have been very good to me and given me loads of chances.
Sunday was also a great day as well as I also own Rainbows At Dawn. Mark Scallan has her for me and I ride her out in the afternoons after school.

Do you do any sport outside of racing?
I enjoy football and hurling and play for my local club in Rathangan. St. Annes. I also hunt as much as I can with the Killinick Harriers during the winter.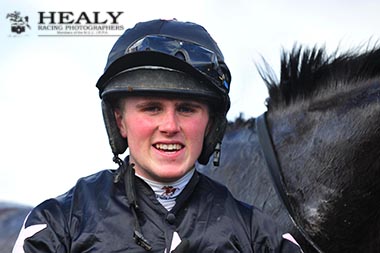 Who's your biggest influence?

Both Mark Scallan and Gary Murphy have been a great help to me since I started riding and have given me loads of advice and tips.
What is one of your favourite racing memories?
I always enjoyed going to Lingstown point-to-point when I was growing up as you would always meet all of the other lads from the area.
What improvements would you like to see in point-to-pointing?
Its great there is more novice rider's races during the season but I think it would be better if there could be more open and winners race for novice riders rather than just older maidens.
What are your plans for the future?

I am hoping to study Engineering after my Leaving Certificate so I would love to be able to keep riding in point-to-points while I am in college.

To read about some of our other featured riders this season click on the link below.
www.p2p.ie/content.php


Andrew Walsh had a day to remember on Sunday at Durrow where he steered his own Rainbows At Dawn to victory. The Co.Wexford native is our featured rider this week in our Next Generation.
READ THE FULL FEATURE: https://t.co/NJJmwcT59W pic.twitter.com/izhdnHlFE7

— p2p.ie (@irishp2p) March 27, 2018