Sean Staples is our latest rider to feature in our next generation section.
From Co. Wexford, 18-year-old Sean began riding in point-to-points last season and enjoyed his first winner at Lingstown last week when he steered the Ashleigh Murphy-trained Redbridge Gold to victory in the mares' maiden.
Sean also finished runner-up that day aboard Gold Runner in the six-year-old-and-upwards maiden.
The Leaving certificate student had four rides last spring and has had a further nine rides this season to date.

Name: Sean Staples
Age: 18
Area: Rathangan

How did you become involved in racing?
I am from a farming background and my father has always kept broodmares so there was always horses at home when I was growing up.
When I was about 7 or 8 I joined the Killinick Harriers pony club and then progressed to start hunting with them for many years which I really enjoyed and gave me the bug to continue riding.
When I was 12 I started to go to Ashleigh and Michael Murphy's yard and I soon started to ride out there which I am still doing at the weekends and whenever I am free.
During Transition year I worked for Liz Doyle for a while and I have also spent the past two summers riding out in Joseph O'Brien's.
What's your favourite course?
It is definitely Lingstown as I rode my first winner there. I was lucky enough to have my friends and family there that day to welcome me back in which was great.
Give us a horse to watch out for?

Ashleigh and Michael have a nice bunch of horses in which includes some nice four-years-olds who haven't been named yet.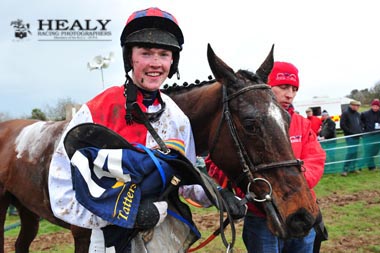 What was the best day of your racing life?

It was definitely at Lingstown as I ride the mare out at home a good bit so I know her fairly well and then to get a second in the last race topped off a great day.

Do you do any sport outside of racing?
I play football and hurling for my local club St. Annes.
Who's your biggest influence?

Mark Scallan and Garry Murphy have always given me loads of advice as to what I need to improve on with my riding and what I should try to do differently.
What is one of your favourite racing memories?
As I child I have good memories of going to Lingstown for every meeting and also watching any graded races at home with my family on Saturday. It definitely started my interest in in the sport.
What are your plans for the future?

I am hoping to go to UCD in September to study Agricultural Science so I would like to try and continue riding alongside that and hopefully pick up as many rides and winners as I can along the way.
From the hunting fields with the Killinick Harriers to a memorable first winner at nearby Lingstown point-to-point, Sean Staples is our latest rider to feature in the NEXT GEN series: https://t.co/3agvhmS8je pic.twitter.com/CmCbzdXe7L

— p2p.ie (@irishp2p) March 21, 2018
To read about some of our other featured riders this season click on the link below.
www.p2p.ie/content.php