Courses
Lisronagh
Track info
County: Tipperary
Soil Type: Luvisols - fine, loamy
Fences per circuit: 5
Fences per 3 mile race: 16
Direction: Left-Handed
Course Distance: 0.88m
Elevation Change (Highest to Lowest Point):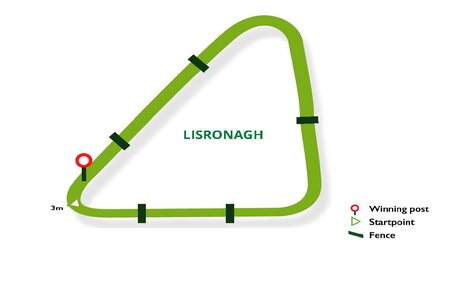 TRACK GUIDE
---
Lisronagh has been home to the Tipperary Foxhounds point-to-point since 2007 and is a left-handed course of under a mile in circumference which has featured a number of different layouts over the years.

On the latest course configuration, the runners begin at the back of the penultimate fence, with a decent run to the opening obstacle, as they first round a slight left-handed curve to get into the home straight proper. There is a short run-in at Lisronagh, and so the runners are quickly climbing uphill on the left-handed bend into the short straight at the top of the track, with fence two coming at the highest point on the course.

Quickly turning left-handed, the runners begin to race downhill parallel to the main road on their way over fences three and four. A tighter bend at the bottom of the course brings the runners back towards their starting point and fence five as they continue the run for home.

Two of the best hunter chasers of recent times both won their maidens at the course within the space of nine months in 2010, with both On The Fringe and Salsify, claiming five-year-old maidens at the course.